About African Breeze Music
Bringing Afropop Music to a New Dimension
African Breeze Music is located in the United States and is the official representative and management company for the International Performer, Musician, Singer and Composer Kow Kanda. We are the point of contact for general information and also for those seeking to book the band either commercially or privately. We also handle requests from Canada, where the artist resides.
Kow Kanda will provide a culturally diverse show featuring exceptional entertainment for your private party, festival or outdoor event. A full accompaniment consists of Kow Kanda and his handpicked group of musicians ranging from the original band members (who recorded together in Sierra Leone and now live in the United States) and also new members who bring with them their own cultural identity and musical talent.
Kow Kanda currently has two recordings. Blind Faith recorded in 1999 and Gbengbeh in 2006. Both of these projects were recorded in West Africa. Currently, Kow Kanda is working on new recordings for another collection to be released in the near future.
The artist Kow Kanda commands his band with his high octave vocal range. His African dancers and unique musicians add a colorful presentation and melodious up tempo beat unique to West Africa. Rhythm guitars, drums and a host of native instruments harmonize to provide a deliverance and fusion of rich energetic sounds and first-class entertainment for people of all ages and backgrounds. A performance by Kow Kanda results in audience participation with initial spectators ending up in the front row or even on stage!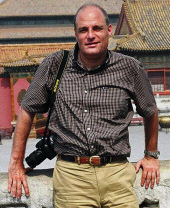 About African Breeze Music's Organizer
Eric the Globe Explorer
Born in The Netherlands, educated in Canada and living in the United States, Eric is the driving force behind African Breeze Music. With many years of experience working with Kow Kanda and his band, he has been able market, promote and manage the band through good and bad times. Eric is also a world-traveler with a high-energy interest for exploring faraway lands and new cultures. Having worked in several management level positions in the travel industry, he is also a certified freelance photographer with an award winning portfolio. His interest and talent in photography and travel Journalism has granted him many overseas assignments. From Macau to Mozambique and from Sierra Leone to Suriname, Eric the Globe Explorer has seen it all.
When it comes to exploring Africa, Eric admits that it is one of the few remaining destinations that still looks the same as it did centuries ago. The continent is full of smiling faces, next to no commercialism and a spirit that keeps the people resilient. Along with the many contributions Africa has brought to the world, the origins of (most) music can be traced back to the African continent. Completely under-rated, Eric comments that African music is a showcase of rhythms, sounds and colors which speak of a culture that is rich in tradition.
"A performance by Kow Kanda is as educational as it is entertaining"